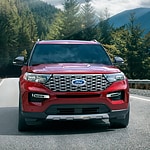 If you're considering your options for an SUV that you can trust to handle any of your driving needs in Lakewood, the 2020 Ford Explorer could be the right vehicle for you. With many different models to choose from, there's something for every driver. Lakewood Ford can help you explore your options and make informed decisions.
Whether you drive frequently on highways with a lot of semi-trucks or on wide open roads where crosswinds are common, you'll love the Sidewind Stabilization system. This technology will help adjust for changes in crosswinds so that you don't have to fight them.
When getting out of parking spots or other tight spaces, you'll appreciate the Reverse Brake Assist system. This technology can determine if there is anything behind you while you have the car in reverse and alert you to obstacles. It can apply the brakes if a collision is imminent.