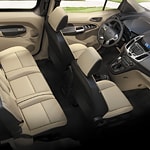 Large families and those who find themselves needing to haul lots of cargo on a regular basis can appreciate the convenience and versatility of a cargo or passenger van, such as the popular and well-known Ford Transit Connect. This vehicle is packed with features that help to meet every need you might have when out on the road.
For starters, the Transit Connect comes equipped with a wireless phone charger built into the dashboard. This can be immensely helpful for anyone who has had their phone die while out and about, and not had a charger available. In addition, the Ford Transit Connect offers flexible rear seating, with space available for up to seven passengers. If it's cargo space you need, the two rear seating rows can be laid flat in order to maximize the available cargo capacity.
Does the Ford Transit Connect sound like it could be the car for you? If so, or if you have questions, feel free to visit us at Lakewood Ford in Lakewood, WA. Our experienced staff can help answer any questions you might have and can get you started with a test drive so you can experience firsthand the convenience features of the Ford Transit Connect.