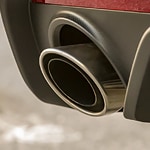 The Ford Mustang will make every trip that you take, a joy. It has the ability to reach a top speed of 180 MPH. It has a powerful engine. It also has a variety of features that will help you get more out of the performance. This vehicle has a seven-speed dual-clutch transmission. It is the first Mustang with a dual-clutch.
There are multiple modes that will allow you to shift quickly. It also has launch control that will help you reach your speed a lot faster. Additionally, this vehicle has a class-exclusive valve performance exhaust. You will be able to control the noise level.
If you are leaving early for work, then you have it set to quiet start. You can turn the volume up if you need an energy boost. You can select normal, track, and sport settings. Test drive the Ford Mustang at our dealership here in Lakewood, MA.